Our second 2020 Sales Superhero utilized the Matrix Historical Revenue and Daily Activity features to exceed year over year budgets, overcoming the challenges faced in sales environments throughout 2020.
Congratulations to the Q2 2020 Superhero Sales Success winner... Bruce Fox from WTIC Fox61, Hartford, CT!

In addition to earning a $250 gift card and his success story featured here and compiled into the Matrix Solutions' winners playbook, our Q2 winner has also received a complimentary registration to Matrix's next Media Ad Sales Summit! Check out Bruce's winning submission...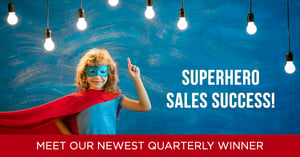 Challenge: Grow enterprise accounts during the Pandemic to offset the budget cuts. Keep track of my daily progress by quarter and by month.

Solution: There was no better prospecting tool than to go into Matrix each day and revisit every account that I have prospected while adding new ones or checking on dormant ones. I exceeded June 2019, which was a banner year, and I tripled my enterprise budget. Matrix is a huge tool for me every day. Thank you TEAM MATRIX!
Key Benefits: Birdseye keeps me motivated to exceed last year...a true challenge in this economy. The coding and layout of Matrix makes you FEEL GOOD.
Matrix function(s) utilized to achieve this success: Historical Revenue , Daily Activity Logs, Account list /Master List.
---
Q3 is underway and Superhero Sales Success submissions are accepted on a rolling basis. Share yours today to be entered into next quarter's drawing for the chance to join Matrix, industry professionals, and other Sales Superheroes at the next Media Ad Sales Summit, have your success story featured front and center, and get a $250 gift card! We will accept your Q3 sales success stories from now through September 30, 2020... and don't forget, you can submit as many as you wish!
Share your sales successes here.