Our second Matrix Sales Superhero of 2021 maximized efficiency and tracked activities like a champ in order to dominate year over year new local direct business!
Congratulations to the Q2 2021 Matrix Sales Superhero out of Springfield, MO!
In addition to earning a $250 gift card and his success story featured here and compiled into the Matrix Solutions' winner's playbook, our Q2 winner has also received a complimentary registration to Matrix's next in-person Media Ad Sales Summit, happening this coming January 2022 in Miami Beach, FL! Check out the Q2 winning submission below...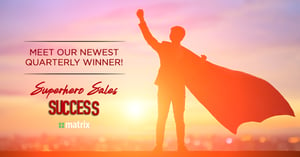 Challenge: My challenge was time management and developing new local direct business.
Solution: I used Matrix to keep track of all activities and mange my calendar. This allowed me to truly maximize every day down to each hour for the highest level of productivity. In doing so, I am currently up 261% on new local direct business over last year.
Key Benefits: Spot direct new local: % change [increase], forecast, and budget.
Matrix function(s) utilized to achieve this success: Activities and Reports.
---
The Q3 2021 Matrix Sales Superhero Quarterly Contest is now underway! Superhero Sales Success submissions are accepted on a rolling basis. Share yours today to be entered into next quarter's drawing for the chance to join Matrix, industry professionals, and other Sales Superheroes at the next Media Ad Sales Summit, have your success story featured front and center, and get a $250 gift card! We will accept your Q3 Matrix Sales Success stories from now through September 30, 2021... and don't forget, you can submit as many as you wish!
Share your sales successes here.