Our Q2 2022 Matrix Sales Superhero utilized multiple Monarch functions to stay connected with her large list of clients, while making sure to not miss out on capitalizing on new business opportunities!
Congratulations to the Q2 2022 Matrix Sales Superhero, Rita Profeta, Pattison Media - Medicine Hat, Alberta!
In addition to earning a $250 gift card and her success story featured on the Matrix website and compiled into the Matrix Solutions' winner's playbook, our Q2 2022 winner has also received a complimentary registration to Matrix's next in-person Media Ad Sales Summit, being held in Ft. Lauderdale, FL in November 2022! Check out the full winning submission below...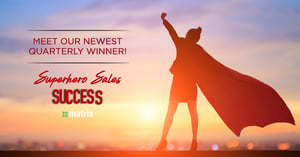 Challenge: Utilizing Matrix in its full capacity!! I have a large client list consisting of yearly, & seasonal accounts on Radio. TV and Digital. I have been struggling with keeping up with all my entries and managing all the daily input. But as I take time to go through all the elements of Matrix, I know it will help to keep me organized and stay on top of all my accounts.

Solution: The Espresso Shot every day is the best for keeping me up to date on accounts. I also look back at history of accounts and what was done in previous years, I am finding that it is helping with my workload. I am able to plan ahead for upcoming campaigns and have my proposals put together. Matrix has also allowed me to focus on reviewing all accounts in the database so I can prospect open accounts and direct more focus on certain clients. Projects has been key for me to ensure I don't miss any business that was part of a previous campaign or promotion. It has helped me to grow the list as well.

Key Benefits: The most important benefit is making sure we are connecting with clients & staying on top of everything and not missing any potential new business. We get caught up in the whirlwind of everyday and I am trying to utilize Matrix to help with it all.

Matrix function(s) utilized to achieve this success: Deals, Espresso Shot, Accounts Master and Projects.
---
The Q3 2022 Matrix Sales Superhero Quarterly Contest is now underway! Superhero Sales Success submissions are accepted on a rolling basis. Share yours today to be entered into next quarter's drawing for the chance to join Matrix, industry professionals, and other Sales Superheroes at the next Media Ad Sales Summit, have your success story featured front and center, and get a $250 gift card! We will accept your Q3 Matrix Sales Success Stories from now through September 30, 2022... and don't forget, you can submit as many as you wish!
Share your sales successes here.