Our newest 2020 Matrix Sales Superhero utilized the Matrix Daily Espresso Shot and Historical Revenue Data to stay on track and on budget throughout the challenges of Covid-19.
Congratulations to the Q3 2020 Superhero Sales Success winner... Joe Bexson from paNOW Digital Marketing!

In addition to earning a $250 gift card and his success story featured here and compiled into the Matrix Solutions' winners playbook, our Q3 winner has also received a complimentary registration to Matrix's next Media Ad Sales Summit! Check out Joe's winning submission below...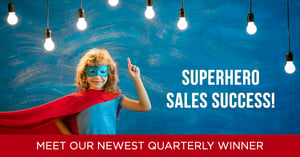 Challenge: To continue to achieve budget and sale goals during our trying times in the North Central Saskatchewan Market.

Solution: To utilize the Matrix sales tool to be sure I stay on top of history and the best way to achieve this is starting my day by reviewing the Matrix espresso shot while I enjoy my morning coffee and Breakfast. This sets the tone and reminds me which accounts I need to be on and to review the previous bookings that have landed on my accounts. I then can see right from my phone app where I need to be to attain my monthly and quarterly budgets. A great way to start my day is the Matrix Espresso Way!
Key Benefits: The Key Performance Indicators I refer to are the budget comparisons as well as my yearly tracking of short falls.
Matrix function(s) utilized to achieve this success: The main functions I use are keeping on top of the pitches and deals I have pending in my deals as well as the activities I need to achieve these deals and goals! I have yet to utilize all the functions as I consider myself very much a rookie on Matrix as we have only started using this in the whirlwind of the pandemic and I am technically challenged at best and am finding Matrix is quite easily learned and navigated. I look forward to learning and adding more skills to this application to keep me organized and on top of my sales!
---
Q4 is underway and Superhero Sales Success submissions are accepted on a rolling basis. Share yours today to be entered into next quarter's drawing for the chance to join Matrix, industry professionals, and other Sales Superheroes at the next Media Ad Sales Summit, have your success story featured front and center, and get a $250 gift card! We will accept your Q4 Matrix Sales Success stories from now through December 31, 2020... and don't forget, you can submit as many as you wish!
Share your sales successes here.