Our Q3 Matrix Sales Superhero provided a new business the engagement they needed through a successful first-time promotion, which then resulted in a longer term advertising commitment!
Congratulations to the Q3 2021 Matrix Sales Superhero out of the San Francisco Bay Area!
In addition to earning a $250 gift card and her success story featured on the Matrix website and compiled into the Matrix Solutions' winner's playbook, our Q3 winner has also received a complimentary registration to Matrix's next in-person Media Ad Sales Summit, happening this coming January 2022 in Miami Beach, FL! Check out the full Q3 winning submission below...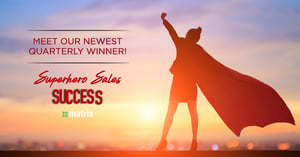 Challenge: Convincing a new business client to advertise for the first time with [our station] using a custom Pest Control promotion to build awareness and communicate the importance of having consistent messaging to reach new customers across the Bay Area.

Solution: Created a 1x Pest Control Promotion to show a significant response from…viewers engaging with new customer ad promotions running on [our website, streaming, and on our station]. Content included :15 tips and a :30 branding commercial locally produced by [our station].

Key Benefits: This client reached an average 500 direct clicks to their website each month by the use of Super Billboard Homepage Takeover ads and was willing to commit to an additional 7 months of advertising [with us]. This is the first time this advertiser has ever used a long-term media strategy. They now continue to utilize Super Billboard Homepage Takeovers on [our website], [streaming on] our 24/7 News App, and Social Display Ads to repurpose their Facebook posts.

Matrix function(s) utilized to achieve this success: I used the deals function to track pending through Q3 and Q4 with the goal of meeting these budget parameters. I also used the notes function to track which tactics were working best and how to position my next pitch.

---
The Q4 2021 Matrix Sales Superhero Quarterly Contest is now underway! Superhero Sales Success submissions are accepted on a rolling basis. Share yours today to be entered into next quarter's drawing for the chance to join Matrix, industry professionals, and other Sales Superheroes at the next Media Ad Sales Summit, have your success story featured front and center, and get a $250 gift card! We will accept your Q4 Matrix Sales Success stories from now through December 31, 2021... and don't forget, you can submit as many as you wish!
Share your sales successes here.