Learn how our Q3 2022 Matrix Sales Superhero leveraged Monarch's activities function to elevate prospects to target accounts
Congratulations to the Q3 2022 Matrix Sales Superhero, a Matrix User out of Amarillo, TX!
In addition to earning a $250 gift card and her success story featured on the Matrix website and compiled into the Matrix Solutions' winner's playbook, our Q3 2022 winner has also received a complimentary registration to Matrix's next in-person Media Ad Sales Summit, being held in Ft. Lauderdale, FL in November 2022! Check out the full winning submission below...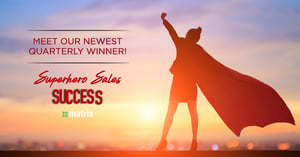 Challenge: Organization of and follow-up with accounts.

Solution: Monarch's homepage reminders and accessibility to accounts allows me to better gauge and prioritize my day/goals.

Key Benefits: The details around up-sell opportunities. The Gregorian sales graph helps me see my growth in real-time.
Matrix function(s) utilized to achieve this success: Using Monarch's activity's function that I can add to every account. It helps me elevate each one from prospect to true leads and finally to the golden nugget target accounts. Having a clear differentiation holds me accountable and keeps follow-up uniform.
---
The Q4 2022 Matrix Sales Superhero Quarterly Contest is now underway! Superhero Sales Success submissions are accepted on a rolling basis. Share yours today to be entered into next quarter's drawing for the chance to join Matrix, industry professionals, and other Sales Superheroes at the next Media Ad Sales Summit, have your success story featured front and center, and get a $250 gift card! We will accept your Q4 Matrix Sales Success Stories from now through December 31, 2022... and don't forget, you can submit as many as you wish!
Share your sales successes here.