The final 2020 Matrix Sales Superhero spread a wealth of Matrix knowledge to members of the team to ensure everyone was best utilizing various Matrix Reports so they could easy track their activity and hit their budget, despite the challenges of the ongoing pandemic.
Congratulations to the Q4 2020 Matrix Sales Superhero... Jaclyn Lloyd from WKTV- Heartland Media!
**Update! Jaclyn Lloyd has also been chosen by you as the Matrix Annual Sales Superhero for 2020!!

In addition to earning a $250 gift card and her success story featured here and compiled into the Matrix Solutions' winners playbook, our Q4 winner has also received a complimentary registration to Matrix's next in-person Media Ad Sales Summit! Check out Jaclyn's winning submission below...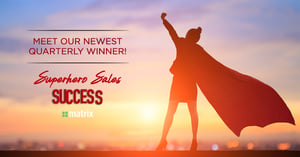 Challenge: Our overall usage as a station was at an all-time low. During the Pandemic, it quickly became a key issue for us as we were no longer in the office and having our weekly touch-bases in person. We desperately needed to track our activity and our revenue. Unfortunately, the majority of the team was not fully up to speed on how to put in pending, activities and revenue.
Solution: Jaclyn Lloyd, an Account Executive on our team and an avid Matrix user, quickly stepped up to the plate. She hopped on the weekly Friday calls with management and not only continued to learn the system inside and out but would then translate those phone calls into "how to" manuals for the rest of the sales team. She spent months implementing Matrix procedures and hopping on zoom calls with her team member to help assist in their Matrix Usage.
Key Benefits: The key benefit was simple. We quickly grasped our weekly activity and how much revenue that translated into. We saw the decline and slow pace of Digital.... used Matrix to research inactive Digital accounts over the last 4 years and got them back up and running. From a manager's standpoint, I was able to curtail their 3rd and 4th quarter budgets based off their pending and real time activity. Overall, our station managed to hit our Station Budget and I can confidently say our increased usage of Matrix contributed.
Matrix function(s) utilized to achieve this success: Deals Pending, Activity, Accounts, Revenue Reports (Digital and Local Broadcast)
---
We're officially into a new year so our Q1 2021 Matrix Sales Superhero Quarterly Contest is now underway! Superhero Sales Success submissions are accepted on a rolling basis. Share yours today to be entered into next quarter's drawing for the chance to join Matrix, industry professionals, and other Sales Superheroes at the next Media Ad Sales Summit, have your success story featured front and center, and get a $250 gift card! We will accept your Q1 Matrix Sales Success stories from now through March 31, 2021... and don't forget, you can submit as many as you wish!
Share your sales successes here.