Our first Sales Superhero of the year utilized the Matrix List Builder to communicate valuable information to a large group of prospects at once, saving time while increasing secured meetings.
Congratulations to the 2020 Q1 Superhero Sales Success winner out of Fresno, CA!

In addition to earning a $250 gift card and his success story featured here and compiled into the Matrix Solutions' playbook, our Q1 winner has also received a complimentary registration to the Matrix Solutions 2021 Annual Media Ad Sales Summit.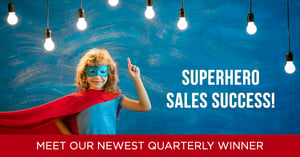 Challenge: Our Q1 winner was looking for a way to share communications with their prospecting database at least once per month.

Solution: Our winner utilized the Matrix List Builder by exporting their list of clients with email addresses in order to send out timely & current emails to various groups of contacts, providing invaluable tidbits of usable information. In order to attempt sparking the correct conversations with the right people, our winner was able to designate two lists from their Matrix export- clients and prospects.

Key Benefits: With the ability to reach out to large numbers of people at once, it opened a fast line of communication between the winner and his prospects. Responses to the emails led to phone calls, to one on one communications, to face to face meetings. Through hearing consistent feedback that the prospects read his emails, it proved that he succeeded in sharing the valuable information he set out to. Through the capability of quickly exporting his list utilizing the Matrix List Builder, he was able to send that information and connect with his clients on a large scale, eliminating the need to send out communications individually, while saving valuable time in the process.
---
Q2 is now underway and Superhero Sales Success submissions are accepted on a rolling basis. Share yours today to be entered into next quarter's drawing for the chance to join Matrix, industry professionals, and other Sales Superheroes at the 2021 Media Ad Sales Summit, have your success story featured front and center, and get a $250 gift card! We will accept your Q2 sales success stories from now through June 30, 2020- and don't forget, you can submit as many as you wish!
Share your sales successes here.