Sponsored Content from Matrix as published on NextTV.com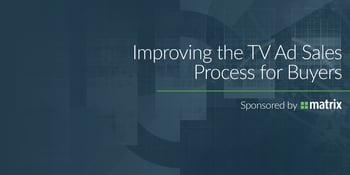 Buying television ad space can be a complicated, frustrating process for buyers. Local advertisers, such as auto dealerships or furniture stores, may want to have the same ad distributed in multiple markets, on multiple channels in one market, or a different ad on multiple channels in multiple markets to promote an event such as a holiday sale. The space booking process typically involves contacting the appropriate account executive within each media organization, requesting a quotation, placing an order, reviewing the resulting as-run data and paying the invoice(s). These steps are repeated thousands of times each day in hundreds of media markets across the country.
Unfortunately in today's environment, the particular details for each step of the ad buying process vary from one media organization to another. For example, one station may have a web portal for submitting an RFQ, whereas another might ask ad buyers to send them an email or a request by fax. While these differences may appear to station owners as a way to "lock-in" ad buyers to their specific media properties, in reality the added friction of working with multiple systems increases the intangible costs to buyers, making TV media buys more difficult than they need to be. For national advertisers, who may want to place ads across a swath of markets simultaneously, these headaches are compounded a hundredfold or more.
Moving Towards a Single Supply Point
The fundamental idea of an SSP (Single Supply Point) for television advertising is to allow aggregation of ad purchases across multiple media delivery systems and regions for both local and national ad buyers. With such as system, ad buyers would have a single, uniform way to research ad avails, request quotations, place orders, and receive as-run results across multiple media properties using a consistent, uniform process...