The Matrix Advisory Xchange, or MAX, was formed for and with Matrix customers in a true collaborative fashion to better understand their current and future media workflow needs, the evolving landscape of media ad selling, and what data and analytics are needed in order to be successful and competitive today and tomorrow.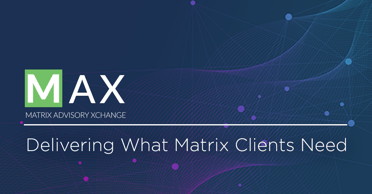 The MAX Mission
MAX's mission is to empower Matrix with knowledge so it can build products that help its customers to compete and win. Matrix seeks to grow and build its products to meet the evolving needs of the media industry, and with MAX, it can do just that.
Why MAX?
MAX is comprised of a small group of industry leaders who are also Matrix clients. Members are key to providing input and intelligence to the Matrix team that will help finetune future product and development efforts and enable Matrix to develop and release technology that will better solve for the challenges that impose friction in the media buying and selling process.
What to expect in the future
MAX Members and Matrix customers at-large can expect to gain greater insights into Matrix's strategic initiatives, while also being kept up to date on the latest technological advancements that are in progress and as well as those that are on the horizon. As MAX (and Matrix) continue to grow, updated technology, processes, and data analytics will enhance and improve the buying and selling process.
Matrix has continued to be involved in advancing the future of media ad sales at an industry level and MAX provides one more way for the media technology company and their customers to do their part in accelerating that advancement collectively.