Sponsored Content from Matrix as published on NextTV.com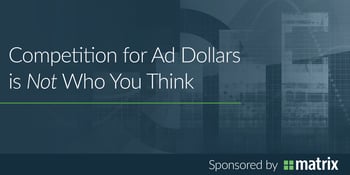 Many broadcasters focus their ad sales efforts on surpassing their perceived competition, such as the cross-town rival in a local broadcast market or a new cable channel that is aimed at a similar audience. In reality, this isn't the case: for most media companies, the largest source of competition for advertising dollars is from Google, Facebook, Amazon, and other social media and Internet properties. Consider a few statistics:
- New York-based market research firm eMarketer reported that TV ad spending in the USA totaled $71 billion in 2019.
- Also according to eMarketer, digital ad spending in 2020 totaled $139.8 billion for the U.S., which includes many different forms of advertising, such as banner ads, video ads and social media ads. The top three recipients of these ad dollars were Google, taking in $40 billion, Facebook, capturing $35 billon, and Amazon which garnered $14 billion.
- The Interactive Advertising Bureau reported on a survey conducted by Advertiser Perceptions to assess the intentions of larger advertisers and brands for spending in 2021. The survey found that 56% of video budgets are allocated to digital in 2021 as compared to 41% for traditional TV, including broadcast, cable and satellite. The survey also reported that digital video (which includes connected TV) is expected to enjoy double digit growth across all channels in 2021.
Broadcasters have good reasons to believe their inventory is more valuable than their digital competition. Television ads continue to have unassailable audience reach, particularly to populations that are not as active online, and they can be scheduled to reach consumers at home during leisure hours, when they have fewer other distractions. In contrast, most Internet usage happens at work during business hours. Broadcasters can also ensure that advertisers' messages are not juxtaposed with unsafe or undesirable content. Plus, many studies have shown that ads on TV are more trusted by viewers than on other platforms.